Babak Taghavi
|
بابک تقوی
Practice area
Qualifications
J.D
Languages
English, Farsi
Address
Taghavi Law Group
1502 N Broadway
Santa Ana
California
CA 92706
United States
Suggest an edit

About
Mr. Taghavi received his BA Degrees in Psychology and a BA Degree in Criminology from the University of California Irvine in 2003. Mr. Taghavi received his law degree from the University of San Diego, School of Law in 2006. During Law School Mr. Taghavi law clerked at the San Diego City Attorney's Office – Criminal Appellate Division. Mr. Taghavi also law clerked at the Orange County District Attorney's Office – Gang Unit in 2004 and 2005.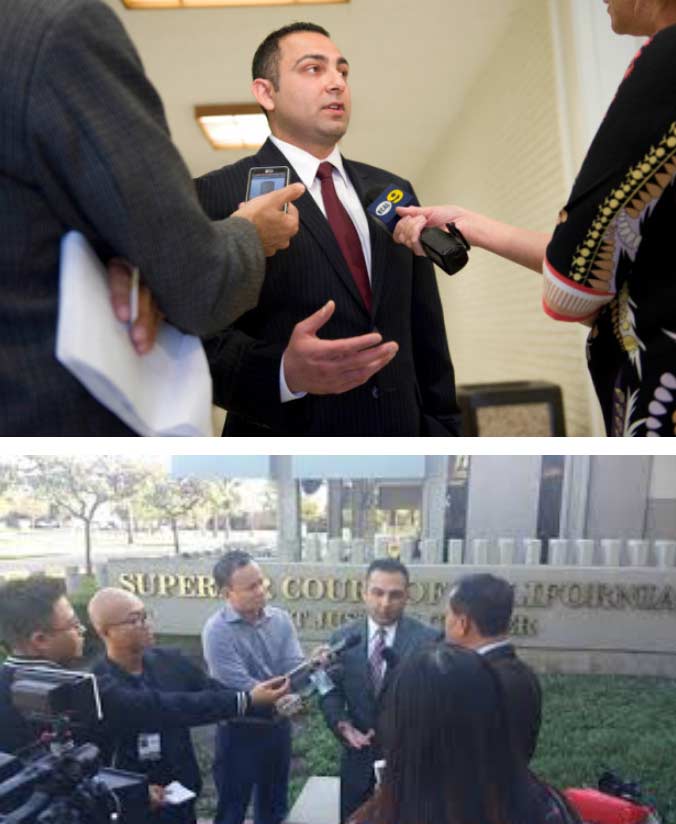 Mr. Taghavi began his legal career in 2006 at a civil law firm handling business litigation. In 2007, Mr. Taghavi joined the Orange County District Attorney's Office as a Deputy District Attorney. He worked in the Central Justice Center as a misdemeanor deputy from 2007 to 2011, where he tried 33 misdemeanor cases and conducted over 50 preliminary hearings on various felony cases.
Mr. Taghavi has handled hundreds of misdemeanor cases including Driving Under the Influence of both Alcohol and Drugs both as first time offender and repeat offenders, Domestic Violence, Child Abuse, Assault, Battery, indecent exposure, Prostitution, Possession of drugs and drug paraphernalia, Restraining Order violations, Threatening of Public Officials, Petty Theft, Petty Theft with Priors, child annoyance and failure to register as a sex registrant, resisting arrest.
In 2011 Mr. Taghavi was promoted to the Felony Panel where he tried 23 felony jury in 18 months and handled a variety of felony cases that included Attempted Murder with Premeditation and Deliberation, Armed Robbery, Aggravated Assault with injury, Mayhem, Possession of Drugs with Intent to Sell, Felony Driving Under the Influence with injury, Possession of firearms and ammunition, Gang Crimes, DNA cold case crimes, Terrorist Threats, Unlawful Discharge of a Firearm, Bank Robbery, Kidnapping, Residential Burglary, Auto theft, Assault on law enforcement, Felony evading, Fraud.
In 2013 Mr. Taghavi was promoted to work in the Sexual Assault unit. From 2013 to 2016 Mr. Taghavi handled hundreds of sexual assault cases including child molestation, multiple victim child molestation, Rape, Multiple victim rape, Kidnap with the intent to commit sex crimes, rape by intoxication, Possession of Child Pornography, Cold case DNA sex crimes investigations, Police Officers accused of sex crimes, Teachers accused of sex crimes, clergy accused of sex crimes, Medical doctors accused of sex crimes, worked with a federal task force combating child exploitation,  to name a few.
Mr. Taghavi was promoted to the rank of Senior Deputy District Attorney, the highest rank for a trial lawyer in the Orange County District Attorney's office in 2018.
During his tenure in the Sexual Assault unit Mr. Taghavi tried 16 jury trials and combined with plea agreements Mr. Taghavi secured sentences of over 20 people to life in prison and several more for sentenced exceeding 25 years in prison. Mr. Taghavi was also assigned to the Golden State Killer Task Force, in order to prosecute the murders, he committed in Orange county by the notorious serial killer Joseph DeAngelo also known as the Golden State Killer/East Are Rapist.
Mr. Taghavi also worked in the Special Operations Unit where he handled the felony murder re-litigation as well as reviewing officer involved shootings; TARGET-Gang Injunction unit where he prosecuted enjoined gang members and in the Juvenile Justice Center where he handled sexual assault cases with juvenile offenders.
In his time as a prosecutor Mr. Taghavi handled numerous high-profile cases that received media attention on both a local, state, national and international level. (See cases in the news) In his career Mr. Taghavi had tried in excess of 70 civil and criminal jury trials to verdict, numerous court trials in both Juvenile and Adult court, handled in excess of 100 preliminary hearings, as well as many other various motions.
Mr. Taghavi was selected to train many different police agencies as well as law enforcement organizations and police academies in sex assault investigations, search and seizure, confessions and admissions as well as trial testimony. Mr. Taghavi was also a regular faculty member of the Orange County District Attorney's training unit where he trained prosecutors on a wide variety of topics including handling of Misdemeanor cases, Trial Advocacy, Marsy's law and Restitution hearings.
He was an adjunct faculty member at Cypress College teaching legal aspect of forensic examination for forensic computer examiners, taught Trial advocacy at JSerra High School as well as volunteered at multiple other high schools over the years in teaching trail advocacy.
For over 5 years Mr. Taghavi was a regular speaker at the Wayfinders Victim Witness training program as well as a guest speaker at legal classes in Cal State Fullerton, Whittier Law School and Western Law School.
Mr. Taghavi is a former President of the Association of Orange County Deputy District Attorney's, a member of the Civic Action Committee of the AOCDDA. Mr. Taghavi also served on the Board of Directors for the Orange County Attorney's Association in which he served the interests of attorneys in the Orange County District Attorney's Office, Orange County Public Defender's Office, Orange County Child Support Services, Orange County Alternate Public Defender's Office and Orange County Counsel's Office.
Profile insights
Babak Taghavi
|
بابک تقوی
↓
(30 days)