Alexia Majidi
|
الکسیا مجیدی
Practice area
Qualifications
J.D.
Languages
English, Farsi, French
Address
Hammerberg Lawyers LLP
1200 W 73rd Ave Suite 1220
Vancouver
British Columbia
V6P 6G5
Canada
Suggest an edit
توضیحات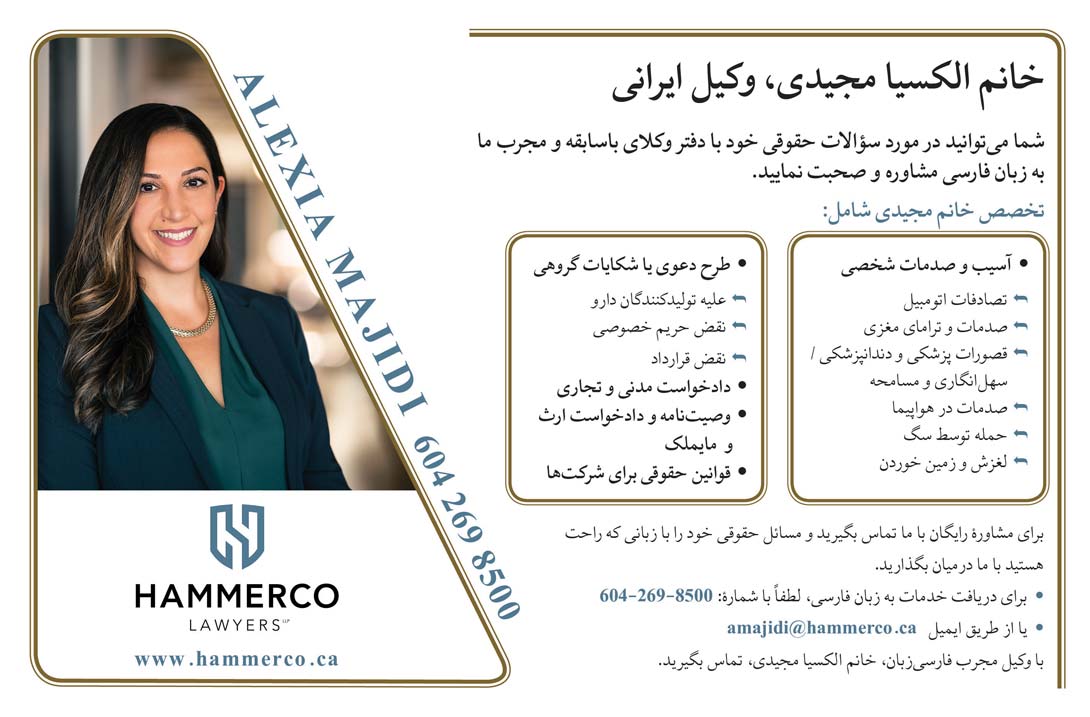 خدمات حقوقی ونکوور
خانم الکسیا مجیدی، وکیل رسمی در بریتیش کلمبیا، همراه با گروه 18 نفری وکلا در Hammerberg Lawyers بابیش از 25 سال سابقه در استان بریتیش کلمبیا مشغول به کار وکالت میباشد.دفتر وکالت ایشان یکی از 3 دفتر بزرگ وکالت جراحات شخصی در استان بی سی میباشد.
خانم مجیدی در کانادا تحصیلات خود را گذرانده و به زبانهای فارسی، انگلیسی و فرانسه صحبت میکنند.
خدمات جراحات شخصی:
تصادفات اتومبیل،
جراحات مغزی،
قصورات پزشکی و دندانپزشکی / سهل انگاری و مسامحه ،
جراحات در هواپیما،
حمله توسط سگ ،
لغزش و زمین خوردن
طرح دعوی یا شکایات گروهی:
علیه تولید کنندگان دارو ،
نقض حریم خصوصی ،
نقض قرارداد
دادخواست مدنی و تجاری
وصیت نامه و دادخواست ارث و مایملک
VANCOUVER LEGAL & LITIGATION SERVICES
Alexia Majidi is a lawyer (vakeeleh rasmy) in British Columbia, Canada. At Hammerberg Lawyers, she practices with 18 other lawyers with over 25 years of experience. Her firm is one of the top 3 biggest personal injury law firms in British Columbia.
She is educated and trained in Canada and speaks Farsi, English and French fluently.
Ms. Majidi's areas of expertise include:
Personal injury law:
car accidents,
traumatic brain injuries,
medical and dental malpractice/negligence,
injuries on airplanes,
attacks by dogs, and
slip and falls.
Class actions (group cases):
against drug manufacturers;
privacy breaches; and
contract breaches.
Civil & Commercial Litigation
Wills & Estate Litigation
For more information, please contact Ms. Majidi for a FREE consultation.
Qualifications
Admitted to the Bar of BC 2015
JD Bond University, Gold Coast, Australia 2013
MSc Vrije Universiteit ,Amsterdam, The Netherlands 2007
BA McGill University, Montreal, Canada 2006
Member, Trial Lawyers Association of British Columbia
Member, Law Society of British Columbia
Member, Canadian Bar Association
Member, of the TLABC New Lawyers Litigation Group