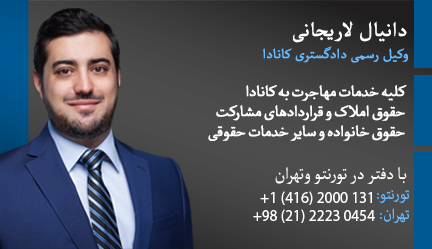 Daniel Larijani | دانیل لاریجانی
B.C.L., LL.B, LL.M
English, Farsi
دفتر وکالت و مهاجرت دانیال لاریجانی
7191 Yonge St, #310
Thornhill
Ontario L3T 0C4
Canada
email:
website:
http://larijanilaw.com/fa/
mobile: +1 416 2000 131
Description | توضیحات
مشاور شما برای مهاجرت به کانادا
مشاور شما برای مهاجرت به کانادادفتر وكالت و مهاجرت دانيال لاريجانى و همكاران، وكلاى رسمى دادگسترى كانادا و استان انتاريو، با بيش از يك دهه سابقه درخشان در ارايه خدمات حقوقى، ارايه دهنده كليه خدمات حقوق مهاجرت به کانادا (مهاجرت تجارى و سرمايه گذارى، دريافت پذيرش تحصيلى و ويزاى دانشجويى، درخواست اقامت براى همسر و والدين، دريافت ويزاهاى تجارى و توريستى ٥ ساله و ساير خدمات حقوق مهاجرت)، خدمات خريد و فروش و سرمايه گذارى در املاك مسكونى و تجارى تورنتو، خدمات حقوق تجارت بين الملل و دعاوى تجارى بين المللى و ارايه مشاوره و برنامه ريزى تجارى و مالياتى براى رفع مشكلات قانونى ارسال پول از خارج كانادا و سرمايه گذارى در كانادا.
براى اطلاعات بيشتر با دفاتر فعال ما در تورنتو و تهران تماس بگيريد:
Tehran to Canada Direct: 8280 2084
Tehran: +98 21 22 23 04 58
Canada: +1 416 2000 131
---
Larijani Law Firm is a one-stop shop for your immigration, real estate investment, global taxation and international trade needs. We represent a wide variety of clients, from individuals to corporations. Approaching each case with our full attention and dedication, we aim to protect your interests and exceed your expectations.
---
Total page visits:
5241
Today's page visits:
2
---
Share this page
این صفحه را به اشتراک بگذ ارید